Aber - Abergwyngregyn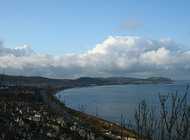 A village on the Bangor road about 2 miles SE. of Llanfairfechan, which has in its precincts a raised mound, called MWD, once the site of a castle built by Llewellyn the Great. . About 2 miles upstream from the village are the Aber Falls, the larger of which is 120 feet high. A lake, Llyn-yr-Afon, or Aber Lake, can be reached either from the village, from which it is 4. miles distant, or from Llanfairfechan.
Aber, located in the northern part of Wales, is a locality steeped in history and natural beauty.
Castle Mound (MWD): While there are several mounds or 'mwd' across Wales, this particular one in Aber has historic significance, believed to be linked with the famed Welsh prince, Llywelyn the Great. The mound is a testament to the strategic importance of the region in medieval times, providing a vantage point and defensive position against potential invaders.

Aber Falls (Rhaeadr Fawr): This waterfall is one of the most popular attractions in the region. Cascading from a height of 120 feet, the falls are an impressive sight, especially after heavy rainfall. The surrounding woodland and moorland are also rich in flora and fauna, making it a favorite spot for nature lovers.

Llyn-yr-Afon (Aber Lake): This serene lake offers a tranquil setting surrounded by hills and forests. Its proximity to both Aber and Llanfairfechan makes it an accessible trekking destination. The lake's reflective waters amidst the scenic backdrop make it a photographer's paradise.

Connectivity: The village's location on the Bangor road ensures that it's easily accessible. It acts as a gateway to some of the region's natural attractions. For those interested in the broader history and culture of Wales, the nearby towns and villages also offer additional places of interest.

Local Hikes and Walks: Apart from Aber Falls and Llyn-yr-Afon, the surrounding area offers several other trekking and walking opportunities. The landscape is varied, ranging from coastal paths to mountain trails, suitable for both casual walkers and experienced trekkers.

Flora and Fauna: The region is home to a variety of plant and animal species. During different seasons, visitors can spot different wildflowers, birds, and other wildlife, making every visit unique.
A visit to Aber and its surroundings offers a blend of history, culture, and natural beauty, making it a must-visit for anyone traveling to North Wales. Whether you're a history enthusiast, a nature lover, or just someone looking for a peaceful getaway, Aber provides a rich and fulfilling experience.